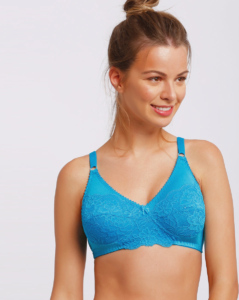 At Lula Lu, we're glad to provide you with well-fitting petite lingerie that feels like it was made specifically for you. Whether you wear a 32a, 32aa, 32aaa, 34a, 34aa, 34aaa, or any other small bra sizes, we want to make sure that you'll have plenty of options that fit you. While it's our goal to provide an excellent selection of choices for those with small bra sizes, we also want to make sure that you're wearing the one that fits the most comfortably as well. Many women actually aren't wearing a bra band that fits them optimally, which is why we'd like to tell you about how your bra band is supposed to fit.
Determining Your Proper Bra Band Size
To determine your proper bra band size, you should take a tape measure and measure directly underneath your bust while braless. Make sure the tape is level and very snug. Round the number that you get to the nearest whole number. Also, if the number is even, add a four to the number; if the number is odd, add a five to it. So if you measure yourself at a 27 or a 28, a 32 will be the proper fitting bra band for you.
Tips for Proper Bra Band Fitting
We've found that many women actually wear the wrong size of bra because they wanted to fit into a different cup size. This can create problems as they can get used to the overly tight band of the wrong-sized bra. If they get introduced to a bra band with the correct size bra band, it'll just feel loose and they might instantly secure it to the innermost hook. This is problematic because bras are made out of nearly 100 percent elastic, which means that they'll stretch out over time. When the bra inevitably stretches, if it's on the outermost hook, you can just place it one hook inward. If it's already on the innermost hook, there will be nowhere to go with it and the bra will be useless to you. This is why you should always aim find a bra band that fits perfectly on the outermost hook.
While we mentioned about how often we see women who wear bra bands that are too tight, you want to make sure that your bra band isn't too loose either. When the bra band is too large, the bra will ride up in the back, creating an appearance of back fat – even on those without any fat on their body at all! For the bra band to fit snugly, you should be able to slide just one finger underneath it.
Contact Your Providers of Petite Lingerie for Small Bra Sizes!
If you're in search of petite lingerie, we encourage you to look through our great selection of choices, including our list of best sellers. Please don't hesitate to contact us if you have any questions or comments for us. We're looking forward to finding you the petite lingerie that fits you perfectly!