To Bralette or Not to Bralette
12 Wednesday Sep 2012
First of all, we have no idea why there are two spellings for "bralette" (the other is "bralet") but either works for what we're talking about!  And, we include some soft cup bras, meaning bras with hook/eyes but mainly ones with no foam cups, in this discussion as well.   Generally,  bralettes have no hook/eye and must be be pulled over the head.  And, we do our best to select bralettes that will fit 32AAA – 38AA cups.
We often have women asking us why anyone would bother to wear bralettes because usually they are see through, lacey, flattening or a combination of all these and they just seem impractical for daily wear.  Well, from talking to customers who are bralette fans (and from our own personal experience), there is definitely some truth to the fact that bralettes do not offer as much coverage or shaping as molded cup bras BUT they do offer their own set of benefits.
One such benefit is comfort.  Most bralettes have no underwire, usually have stretchy bands and can do double time as a camisole top if you don't feel like wearing one (or don't feel like wearing a bra)!  For example, the Lula Lu Petites Jaylyn Bralette would make a good companion to any V-neck top or sweater any time or if you just feel like layering!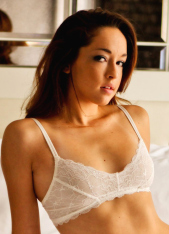 Then, there's the pretty factor.  It's true when you're smaller busted it's harder to find pretty, lacey pieces that look good but, if you're okay with a bit of sheer lace or sheer mesh (the boys love it!), then bralettes are so much fun to explore!  Just check out the Hanky Panky Stretch Front-Tie Bralette and tell us if that doesn't have fun written all over it!  Or, one of our bestselling bralette styles is the Eberjey Delirious Triangle Bralette with its flattering triangle cups and super comfortable lace.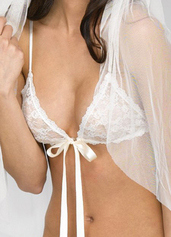 Whether you're a bralette fan or not, we think there's usually a time or place where one can be worn and we wouldn't want you to miss out on all the fun and comfort!
By: Ellen Shing