How Hanky Panky Became Hanky Panky
28 Friday Sep 2012
Most of you have probably heard of Hanky Panky lingerie and the "The World's Most Comfortable Thong®."  And, many of you might be afficionados of the Hanky Panky Stretch Lace Thong and would never dream of wearing anything else.  But, do you know how Hanky Panky got its name and how their success story began?  Well, we're going to tell you!
It all started in 1977, when designer Gale Epstein created a hand-made lingerie set for her friend, Lida Orzeck, crafted out of embroidered handkerchiefs.  The original designs wowed retailers and industry experts alike and they were the inspiration for the company name, Hanky Panky. From the first hanky set in the seventies to today's lingerie, Hanky Panky has continued to influence trends in lingerie and sleepwear.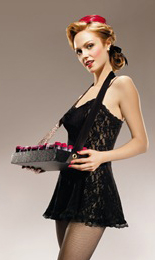 One of Hanky Panky's signature products, the Original Rise Thong, was created in 1986 and it is still one of their bestsellers. Each one of these thongs uses over 30 yards of thread – a main reason why Hanky Panky products are so well made.
Hanky Panky still produces their products in the U.S.  Their design studio is based in Manhatten and all of their products and components originate from the U.S.
If you're now intrigued by Hanky Panky,  we carry the super cute Stretch Lace Bralette, the sexy Front-Tie Bralette and Thong set and the Low Rise Thong aka "The World's Most Comfortable Thong®".  All of these items fit small-busted women well and are popular with our customers when they are looking for something sheer, lacey and lightweight to wear.
By: Ellen Shing