Sports Bra Essentials
14 Sunday Oct 2012

Sports bras are available in a wide variety: expensive or low-priced, no-name or designer brands, in plain white for underneath or in in bright neon colors to be worn as tops. But even with a wide range of top sports bras to choose from, over 50% of all women who exercise regularly don't wear one when working out. Especially small busted women don't know if they really need a sports bra for support.
But, yes, wearing a supportive sports bra is essential, no matter if you are small or big busted. One reason to wear a sports bra is to prevent uncomfortable and sometimes even painful bouncing. The most compelling argument to wear a sports bra, though?  Not wearing a supportive and properly fitting sports bra during exercise can lead to permanent breast damage, whether you've experienced pain or not, and even if your breasts are very small.
How can the damage occur? 
Because breasts are made of mostly mammary glands and fatty tissue and supported by ligaments and skin, they suffer from a lack of support during exercise. Once the ligaments and skin are stretched, there's really no way to "unstretch" them short of surgery.
Clearly, wearing a sports bra is a good idea, but not all sports bras are created equal and not all of them offer the same type of support. A scientific study performed by Joanna Scurr, a professor of biomechanics at the University of Portsmouth in England, showed that breasts move in three dimensions during physical activity.
1) Up and down
2) Side to side
3) In and out
So, finding a bra that limits motion in all directions provides the most protection from sagging and pain.
What type of sports bra is best?
There are two basic ways that sports bras reduce breast movement during exercise: encapsulation and compression.
Encapsulation bras surround each breast individually much like an everyday bra. Their individual cups offer support for women wearing bigger cups.
Compression sports bras reduce the movement of the breasts by pulling them close to the body (compressing them). They are the best choice for smaller chested women.  Compression sports bras also come with cups and padding to give a little extra boost and shape, like the Shock AbsorberLevel 2 Pump Sports Bra that our Lula Lu customers love.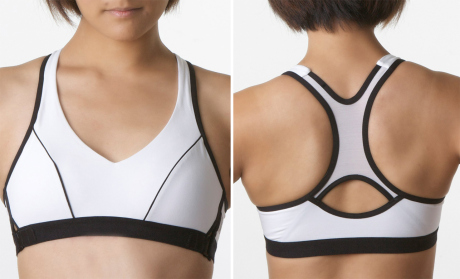 And the fit?
A well fitting sports bra should fit snuggly under your breasts without being uncomfortably tight. Your breasts should fit entirely inside but there shouldn't be any fabric bulges either. The shoulder straps should not dig into your shoulders. Like any bra, the primary support comes from the band, not the straps.
Something else to consider?
Beyond support, there are a few other things to look for in a sports bra. First of all, your sports bra should be comfortable. If you want to take your sports bra off screaming after wearing it for 2 minutes in the dressing room, look for another size or style until you find a comfortable one. Also, make sure your sports bra is made of moisture-wicking fabric, such as Lycra, to keep sweat from getting the bra wet and to prevent chafing problems.
Now you are ready for your favorite workout, whether it is running, cycling, kickboxing or playing tennis!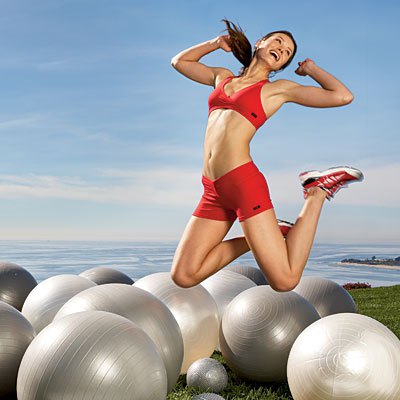 By: Ellen Shing