Is there a Perfect Small Bra that Fits Everybody?
05 Monday Nov 2012
Tags
AA bra, answer, best fitting bra, bra shopping, Delilah wireless bra, Lula lu lingerie, lula lu petites, perfect fit, Petite Bra Fitting, petite bras, petite lingerie, petite style, q&a, question, small bras, T-shirt bra
Share it
We often get asked both from our store and web customers whether there is a "magic bullet" small bra for small busts that fits everyone and that everyone loves. Of course, we also wish this kind of bra existed because it would make shopping for bras so much easier, not to mention lightening fast! However, as with anything, everyone has their own body type and personal preferences regarding the look and shape of a bra.
Having said that, we do have a style that many, but of course not all, customers have gravitated towards and it is the Lula Lu Petites Delilah Wireless Bra (LUL05). The Delilah is a lightly padded, underwire free T-shirt bra that provides a nice shape without adding much volume. And, the smooth organic cotton fabric and low cut neckline make it the perfect everyday bra.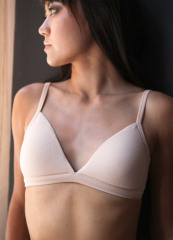 Stay tuned as we'll be getting the Delilah body in a Microfiber fabric in late November.
By: Ellen Shing