5 Advantages of Having a Small Bust
02 Tuesday Apr 2013
The Perks of Having a Small Bust
There are many advantages to having small breasts, some of them are obvious while others are more subtle. If you are the owner of a pair of petite pair, you should be proud that you are among a group of women who enjoy special advantages. You don't have to be a wallflower when you have a small bust, since there are plenty of perks to being smaller. Here are the top 5:
1. They are Attached to Some of the Most Beautiful Women in the World
Have you noticed that some of the most beautiful women in the world have smaller busts?
They are beautiful because of their entire package, and a part of their package is their smaller size.  As the owner of a pair of smaller breasts, you are also in that same club.
Below is a list of some of the most beautiful, small busted celebrities:
Natalie Portman
Michelle Pffeifer
Ashley Olson
Lucy Liu
Debra Messing
Julia Stiles
Naomi Campbell
Cameron Diaz
Eva Longoria
2. Great for Athletes
If you are a regular runner or athlete, you have already experienced how much of an advantage having small breasts can be. Running is a breeze because you don't need a heavy duty sports bra holding you back, up and around!  And, if you do yoga, you won't have to worry about anything more than perfecting your downward dog.
3. They Age Better
Ever hear of women complaining of back pain because of the weight of their breasts?
If you have smaller breasts, you know that you won't have to worry about this issue. Small breasts retain their shape even when you get older so you actually look younger and slimmer with your smaller breasts. Sagging is something that you won't have to worry much about.
4. Better Posture
Did you know that larger busted women often cannot sleep on their stomachs due to their breast size? As a small busted woman, sleeping on your stomach is an option that is both possible and comfortable.
Having smaller breasts also means it is easier on your posture. Large breasts can often weigh you down and cause you to slouch forward instead of standing upright. Smaller breasts are much easier on your back and result in a more confident posture!
5. More Clothing Options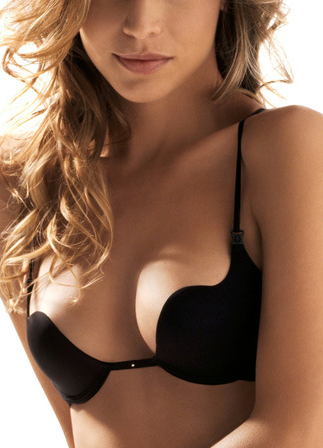 If you have smaller breasts, you have much wider clothing options than your well-endowed sisters.  Whether you're wearing a strapless sundress or sexy tank top, you can easily choose from a push up bra, bralette or even go braless during a hot summer day! Smaller breasts have more flexibility when it comes to clothing options and it is much easier to look elegant with smaller breasts and less clothing.
If you would like to feel more confident in your clothes, one of the things that you will need is a bra that fits your body type. Even if you are a difficult to fit AAA cup, if you are looking for the right fit, you should visit Lula Lu for some of the sexiest and best fitting bras for small busted women.
By: Ellen Shing