When to Throw Out Your Bra
19 Sunday May 2013
Your Bra Has an Expiration Date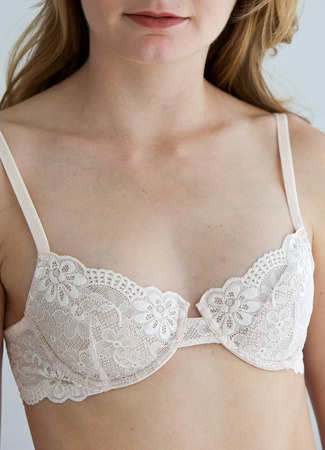 No matter how many pairs of  bras you have, there comes a day when you should part with them. Bras have expiration dates and there comes a time when it's time to move onto greener pastures.
One of the mistakes that many women make is that they tend to hold on to their bras long after their expiration date. So what's a girl to do? One of the best ways to keep yourself feeling great all day is to wear bras that still feel and look good on your body. So how do you know when to keep your bra and when it's time to move on?
Here are few of the signs that your bra is showing wear and tear and should be replaced:
Questions to Determine Whether or Not to Keep Your Bra:
Is your bra making you feel pain in your shoulder blades or your back?
Is your bra dimpling or wrinkling in the cups?
Is your bra not fitting your ribcage, meaning it is now too loose?
Have you recently gained or lost weight?  If so, is your bra still fitting your ribcage and breast?
Does the strap on your bra still hold without any stretching?
How Long Should I Wear My Bra?
One common question that many people ask is how long should you wear a bra?
The answer depends.  Some recommend buying new bras every 6 – 9 months but we've found that most bras can last much longer than that as long as they are well taken care of, meaning that they are hand washed and reshaped after every wash.   Also, since most bras are 100% elastic and our bodies are nearly 100 degrees, the bras can easily stretch out faster if you body runs on the hotter side (or live in a warmer climate).  So, there is no hard and fast rule and we just recommend observing the state of your bras and how they are fitting you.
How many bras should you own?  Generally, several bras in different styles (i.e. T-shirt bra, Racerback, Strapless etc) will give you the best options for your entire wardrobe needs.
Another suggestion is that if you really have a favorite style, you should have a couple different pairs so that you won't wear your favorite bra out too soon.  Or, run the risk that the manufacturer discontinues the style so you cannot purchase new ones when you need them.
Wearing your bra 2 days in a row is also not recommended. Like any piece of clothing, it needs time to breathe and keeping your bras alternating gives it longer potential and you'll be able to get the most money and comfort out your bras.
You'll have a much more comfortable time wearing your bras once you know that you're keeping them in top shape. Now you can spend your time doing what you love instead of worrying about your bras.
What are some other ways that you've discovered that have kept your bras looking and feeling fresh and new?
By: Ellen Shing