3 Swim Suit Styles For Smaller Busts
01 Thursday May 2014
We all know that shopping for swim suits is up there with shopping for bras when it comes to dreaded shopping trips.  We have decided to break down the styles best suited – no pun intended – for small-busted women.
The problem seems to be that most women don't understand that not every cut and style is made for every woman's body.  There are specific styles that flatter and accentuate even the smaller girls. We will go over the 3 key styles to look for when shopping for that perfect swim suit.
Padded styles –  Padded styles that help give you that extra oomph are probably the most sought after.  Don't worry, just because it is padded doesn't mean you can't go in the water!  A style we recommend is the Voda Envy Push-up.  The triangle shape is highly flattering to a smaller bust and the foam padding does not absorb a lot of water, creating real looking cleavage.  Padded swim suits can add 1-2 cup sizes, depending on the style.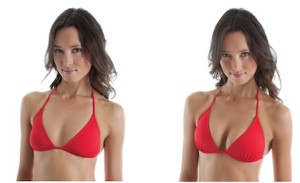 Distraction style – A lot of women think that if they wear bold colors, prints or textures that they are drawing attention to the fact that they have a smaller bust.  However, it is actually quite the opposite.  Distraction style swim suits attract the onlooker's eye, but they are distracted by the bold color or prints, not by your smaller chest.  Two of our favorite distraction styles are fringe  and ruffle styling.  These styles tend to mask the smaller chest and create movement.  By doing so, no one ever has a chance to notice that you may have a smaller bust.
Daring styles – The thing about having a small bust is that you have the chance to wear styles the bigger chested ladies cannot. Embracing what you have and wearing daring cuts is something that not every girl can do.  Cute monokinis with cut outs, intricate bikini tops and daring swimwear really only looks cute and classy on a smaller chest.
Now that you're up to speed on the latest and greatest trends, make a splash this summer and turn some heads!