Straps and Bands – How To Find The Perfect Fit
14 Wednesday May 2014
Although finding the perfect cup size tends to be the biggest and hardest task, finding comfort in the straps and band are just as important.  This week we will dive into problems and solutions that many women run into when it comes to bra bands and straps.
Strap Solutions
When it comes to bra straps it seems that there are always two main issues — the straps tend to slip and slide or they pinch and dig. Often times when we are wearing a bra band which is too big for us, we over compensate by tightening the bra straps to much.  This is quite common as many women think that the straps support the bra but,  in reality, it is the band that holds all of the support. In a case where you are over tightening your straps, we would suggest trying a different bra size as the one currently being worn may be too big in the band (or the band has become too stretched out).  If the band isn't the issue then try loosening the straps a bit, as long as they don't slide down, you should feel much more comfortable. Keep in mind that this isn't just a nuisance that can be ignored because, in the long-term, it can cause headaches, back pain and even nerve damage!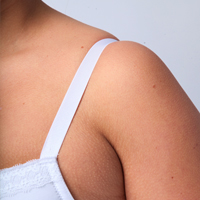 The next issue is probably one we don't even notice happens because we become so accustomed to it — the irritating, sliding strap!  Although, you may be in the wrong band size, often times it can be a style issue or issue with our own sloping shoulders. If you have an issue only with one style bra, it may just be that that style isn't right for your body type. In that case, there are strap connectors that will hold your straps securely in place. The strap connectors make it easy to wear any style bra and prevent slipping and sliding of straps.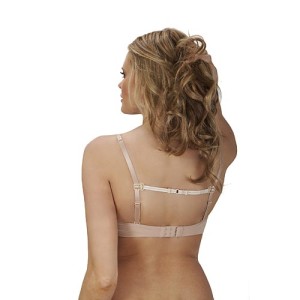 Another solution to sliding straps would be to try a bra style that has straps cut more inward. Our personal favorite is the Racerback Bra.  This style has straps cut more narrow but also can be worn criss-cross for that extra guarantee that the straps will stay in place.
What About the Band?
Another topic we want to go over is the band. We all know that it shouldn't be too tight or too loose but what are some indicators that we are in the wrong size?
If your bra band is riding up in the back, you have one of the most common problems. This is a sure indication that your bra band is too small. Remember, your band should never leave any red marks on your skin or any indentations on your skin. If the band is riding up in the back, your breasts are not being supported and your bra is acting more like a sling and less like a bra. Your band should always be on the outermost hook/eye as over time the band will stretch and you will then go inward on the clasp. If your band is still riding up even after adjusting the clasp, you may need to go up to a larger band size.
Another fit issue with bra bands is when they are riding too low.  This means that the band you are in is too big and you will need to go down in band size. The band should fit comfortably but it shouldn't be loose. The band should fit straight across your back, as seen on the red line in the photo below.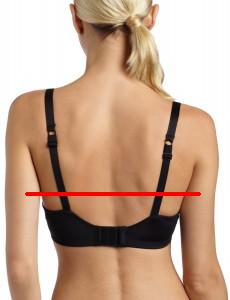 Remember, bra sizing is an inexact science and we recommend having someone fit you properly. A well fitting bra can change the way you feel, the way clothes fit and how you look. Also, our bodies change many times throughout our lives due to pregnancy, weight gain, weight loss and age, so don't be surprised if you go through many different bra sizes in your lifetime.