Go Braless in Padded Camisole for Small Busted Women
13 Wednesday Aug 2014
When I started Lula Lu it was, in part, to try to solve a personal problem. I was frustrated by the lack of lingerie options for small busted women and decided to design some of my own through the Lula Lu Petites brand. So, a couple of years ago, when I stumbled upon a new, potentially bra-related problem for small busts,  I started working on the solution.
We've all been there.  It's a hot summer day and you want to wear as little as possible without being arrested for indecent exposure. I love wearing shelf camis in hot weather but, of course, the only ones I could find for my bust size are the generic kind, which  have no padding in them and just have 2 layers of fabric at the bust with elastic.  These camisoles work great when I'm layering. However, when it's hot out and I don't feel like layering, then my options are limited with these types of camisoles, especially if I want to wear a white one.  All of the camisoles I had seen with padding had underwire and molded foam cups, neither of which I wanted.  So, I wondered, why not create a non-underwire shelf cami that had removable padding for when you need them?
This sounded like a simple creation, but we experimented…a lot!   Removable padding that was round made us look like we were wearing a nursing camisole.  I was particular about the fabric and how it lay, especially since each size had to accommodate a range of sizes.  Two years later our Padded Camisole was finally ready, but did we have all the boxes ticked?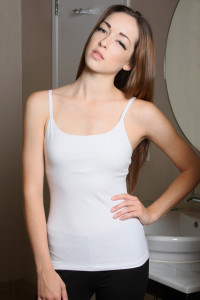 adjustable straps – yes
soft, breathable cotton – yes
built-in shelf for support – yes
removable padding – yes (we actually used the same shaped padding as our super popular Delilah Bra)
could I wear it in white, without a bra, whilst maintaining nipple discretion…oh yes!
…and we also made it in black too!
So many of you have been in touch to say how much you love this cami.  I'm happy with the results and have enjoyed making the absolute most out of not having to wear a bra – well, as least until Fall!
Ellen x