Bra Shopping 101 – Bra Measuring How To Guide
14 Wednesday Jan 2015
We know how difficult it can be to purchase a bra online especially with every brand and style varying slightly in size. We wish that we could measure every one of our small breasted customers in person but, as we all know, that just won't happen so we have the next best thing. Introducing our Bra Measuring How To Guide. Simply follow our step-by-step instructions and measure yourself for a bra. It's not completely fail safe because it's still best to have someone else measure you, but it's pretty darn good!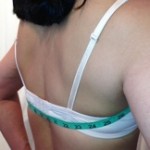 STEP 1 – Determine your Band Size
Wear a lightly lined or unpadded bra
Take the measuring tape and pass it around your back following the bottom edge of the back of your bra band
Bring both sides of the measuring tape towards the front of your body meeting towards the top of your breast bone
Be sure not to pull the tape too tight or too loose
If the measurement is even then that is your band measurement i.e. 34″.
If the measurement is odd then round up by 1″ i.e. if you measure 31″ then round to 32″ and that is your band size
STEP 2 – Determine your Cup Size
We recommend performing this step in an unpadded bra for accuracy
Pull the measuring tape around your body at the fullest part of your bust
Again, be sure the tape is neither too tight nor too loose
Then subtract your band size (from Step 1) from this measurement
Use the chart below to work out your cup size based on the difference between the two measurements
CONVERSION CHART
| Difference | Cup Size |
| --- | --- |
| Less than 1/2″ | AAA |
| Less than 1″ | AA |
| 1″ | A |
| 2″ | B |
| 3″ | C |
Some Helpful Tips:
If you don't feel confident in your measuring technique you can:
Stand in front of a mirror so you can see what you're doing
Get a friend to help
Or failing that, visit a department store or lingerie boutique that offers a bra measuring service and have them measure you. Even if they don't sell your size at least you'll walk away with an idea of your actual bra measurement.
We hope this helps.  However, if you remain unsure, feel free to contact us with any bra fitting questions you may have.
Ellen
x