Bra Measuring Innovation
01 Monday Jun 2015
We've written before about bra measuring techniques and how we handle bra fittings for our small busted customers at Lula Lu. We have also delved into the history of bra measuring, which looked at why we measure the way we do today and why it's so darned confusing!
How we long for the day when all bra brands, manufacturers and fitters use the same method of sizing and measurement.  We fear this may not happen any time soon however so, in the meantime, we'll take a look at some innovators that have tried or are trying to evolve the bra measurement system.
Bra sizing evolution
Remarkably there have been few attempts at trying to reinvent the bra sizing system. There have been experiments with 'in-between' band sizes which didn't stick; we assume because of bra extenders and the like. In more recent years brands like Thirdlove have introduced 'half cup' sizes to try and cater to those women that fall in-between (i.e. A 1/2 is the smallest size they offer). With neither of these changes taking off in the mainstream we wonder how much demand there is for this type of innovation given that others haven't followed suit.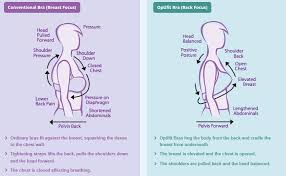 British label Optifit invented their own new sizing system and fitting technique.  Their measuring strap, Optimeasure, which is designed entirely with their own sizing system, measures in three dimensions providing the user with 'Optimeasurements' for their body frame, body depth and breast projection.  These measurements are then combined to determine the Optifit size.  They say that "conventional bras are designed to compress and encapsulate breast tissue, exposing the breast to negative pressure". They have designed their bras to eliminate this 'negative breast pressure', and so have reinvented the way their bras fit on the body.  Even though these issues are perhaps more applicable to those with large breasts it's still pretty interesting stuff.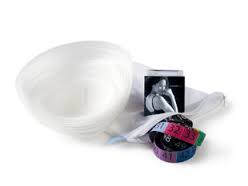 Then there's Jockey's 'FitKit'. A new measurement and sizing system, launched in 2013, that is apparently the only one that 'measures breast shape and volume'.  Their new range of sizes, 55 in total, are not alphanumeric but are made up of two numbers e.g. 03/36.  The FitKit includes a measuring tape and ten plastic cups which are used in combination to determine the bra size. The numbered cup that best fits your breast provides the first part of the size, and the under-bust measurement shown on the tape provides the second part of the size.  The system has received mixed reviews. Sweet Nothings "couldn't really tell if this hard plastic cup was the right shape for me, or if it was just shoving my breast tissue into a mold.". After testing the 'FitKit' Elizabeth Dale tried on the 'right' size and  "It met all the rigorous fit rules" but "it was all 'wrong' for me.".  It's hard to say whether we think this method provides a better fitting bra as we've not tried it ourselves – have you?
Innovations
Since, thus far, none of these new systems have taken off, we thought it might be interesting to take a look at the latest innovations that try to help us measure more accurately at home, using the current measuring systems.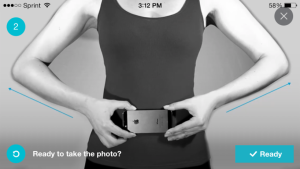 Thirdlove launched their sizing app in 2013 (for iPhone). Their patented sizing technology essentially provides a virtual fitting by taking two photos.  They use the iPhone in each photo as a "calibration object" making it possible to measure a 3-D object using a 2-D image. It has received mixed reviews but it's great to see technology being used in this way.
Then there's the True & Co quiz. This takes you through a series of 20 questions that ask you to describe your breasts, and the fit of your favourite bra.  No measuring is required which removes any room for human error as far as math is concerned, though it does make us wonder about the accuracy. The technology is not quite as impressive as the Thirdlove app, but it's an interesting move away from the standard 'bra calculator'.
While all these new methods, ideas and innovations show forward thinking and that there is a need for change, we know that to make an actual change within the industry we're going to need something bigger. Something that calls for all the key players to come together to standardise, simplify and roll out a global sizing template that works. What we need is a Bravolution!