Valentine's Day Petite Lingerie Guide
05 Friday Feb 2016
Now that we're approaching Valentine's Day, many women will be shopping for new lingerie.  Women with small bra sizes often feel neglected as they think there are very few choices when it comes to intimate apparel for their breast size. After all, the trend in lingerie over the past decade or so has been focused on larger bra sizes to meet the needs of women wearing plus sizes. But the reality is that there is a robust market for petite lingerie. Here are a few top choices in lingerie for petite women to consider buying yourself that are both beautiful and feminine.
A Demi Cup Bra
Demi cup bras are among the sexiest styles you can choose for a bra. Because "demi" literally means "half" in French, these bras are sometimes called 'half-cup' bras. A demi cup bra reveals just enough while providing a perfect shape for small busts. This type of bra gives you a sexy neckline when wearing low-cut tops.
The Havana Demi Cup bra is an underwire bra that features a lightly padded foam cup and double spaghetti straps. The Havana's beautiful shade of purple is stunning and romantic. This beautiful bra has patterned, embroidered mesh with a diamond-shape charm for an added touch of elegance.
Lace Chemise
A chemise is sleepwear that's both romantic and flirty. Designed to easily slip on, a chemise is a great choice for both lounging and grabbing the attention of someone special. The Honeydew Ahna Chemise is perfect for Valentine's Day with its delightfully playful 'Berrylicious' pink color and  lace trim. This chemise is fitted in all the right places and features ruching at the V-neckline with racerback lace in the back.
Lace Bikini Panties
Every woman should own a few pair of bikini panties as the narrow sides and hip-level waistband provides a flattering shape that's essential for every wardrobe. Lace bikini panties bring romance and comfort to your everyday style.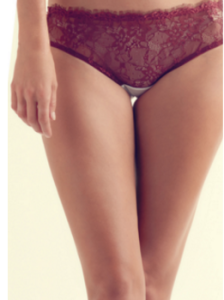 Lula Lu is proud to offer the best fitting AAA, AA and A cup bras plus small lingerie for petite women. Whether you're looking for a basic t-shirt bra or sexy petite sleepwear, we have you covered!