All About Bralettes
15 Monday Feb 2016
With so many different types of bras on the market, it's no wonder that many women become confused when shopping for petite bras. Whether you wear a 32aa bra size or are an a-cup in another band size, you may feel intimidated when shopping for petite bras. Bralettes are a style of bras that were made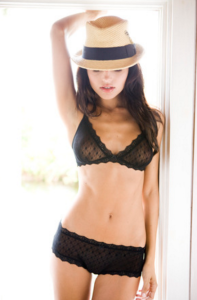 famous by the pin up girls of days gone by. A bralette is a versatile style of bra, often with no hook/eye, and which usually features some lace and other feminine touches.
Benefits of Bralettes
A bralette does not offer much coverage and shaping compared to molded cup bras and there is also no underwire. Instead, these bras feature stretchier bands, making them very comfortable to wear. Today, women of all sizes are wearing bralettes with tank tops, dresses, t-shirts and basically anything. Why are bralettes so popular? Because they're more comfortable than regular bras with wire and padding and they're convenient, versatile and fashionable. If there's one thing that can be said to best sum up bralettes, it probably is that these bras actually beg to be seen unlike other bras that are best hidden under clothing.
How to Wear a Bralette
The nice thing about bralettes is that there are no hard and fast rules for wearing them. Some women wear lacy bralettes as tops along with high waist jeans or skirts. A bralette of any color or shape looks great under a sheer white t-shirt and actually makes wearing white easier. During warm weather, pairing a bralette with high waist shorts and a sheer blouse makes a wonderful summer outfit that's sure to turn heads. The sexy Camellia Lace Bralette comes in a beautiful velvet color and is so lightweight, comfortable and breathable that you won't want to take it off!
If you're unsure what to wear under a sheer button-down top, a bralette in any color or style is a great choice to make. Do you have a top or dress in your closet with an open back that you haven't worn because you didn't know what type of bra to wear? A bralette is perfect for wearing under open back tops and dresses.
It's Easy to Pair Bralettes with Many Types of Clothing
Bralettes look particularly nice with maxi skirts because the two garments balance each other out. A shirt with open sides can seem impossible to pair with a bra but not with a bralette! If you're feeling daring, consider wearing a lacy bralette such as the Hanky Panky Stretch Lace under a leather jacket for a very edgy look. A black lacy bralette peeking out under a loose fitting black t-shirt is very feminine and pretty.
As you can see, bralettes are very versatile bras that are designed for comfort and style. Bralettes are practical, sexy, fun and flattering to give this style of bra bragging rights over other bras which don't offer as much. Lula Lu carries a fine selection of bralettes for petite women in many colors and styles. Whether you're a 32aa bra size or a 38aa, you can rest assured that we have many bra styles in your size to meet all your bra-wearing needs.