Do You Need to Wear a Bra with a Padded Camisole?
10 Sunday Apr 2016
One question many women of all sizes ask is whether or not it's necessary to wear a bra with a padded camisole. The general rule with regards to this is that a bra should be worn under a padded camisole if the camisole chosen doesn't provide ample coverage. Unfortunately, there are many camisoles out there for petite women that simply don't provide enough coverage.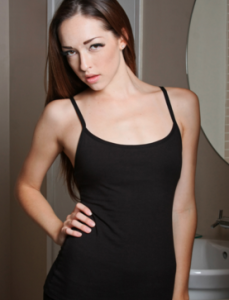 A padded camisole is designed with padding so that it's not necessary to wear a bra. But if you choose a poor quality camisole that doesn't have things like a built-in shelf and removable cookies, you will probably still need to wear a bra so you get the coverage and support you need.
Camisoles are very versatile as they can be worn under tee shirts & blouses or worn alone. This makes them work well for everyday wear, work attire or when exercising. A padded camisole gives you the opportunity to go bra-less for more comfort and freedom, that is if you choose a good quality camisole that provides ample coverage and the amount of support you need.
You can go bra-less when you're wearing a padded camisole such as the one we offer. Our padded camisole is comfortable to wear and it provides ample coverage. You'll never think you need to wear a bra with this camisole because it comes with removable cookies and a shelf that's built in for support. This camisole is perfect for layering under tee shirts and blouses and can even be worn on it's own when the temperature heats up.
The team at Lula Lu is always happy to answer your questions so don't hesitate to contact us if you need some help choosing the right size in a padded camisole. We can answer all your questions about petite bras, lingerie, sleepwear and swimwear as we specialize in petite bras and lingerie!