How to Remove Lint Balls from Bras
15 Friday Apr 2016
At Lula Lu, we do our best to provide quick answers to the questions we're asked by our customers. One question we've been asked several times has to do with how to remove lint balls from bra fabric so we'd like to cover this topic here on the blog!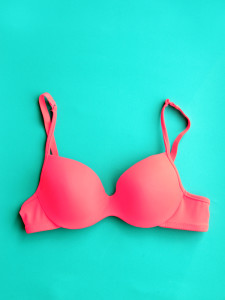 First all, it's important to know that those tiny balls of lint that show up on your bras are caused by washing and drying the bras without putting them in a mesh lingerie washing bag. Therefore, the best way to avoid getting these small balls of lint on your bras (and other lingerie), is to always place your bras inside a mesh lingerie washing bag before washing them.
This is an opportune time to remind everyone that the best way to wash bras is by hand.  As tempting as it is to just throw your bras into the washing machine, machine washing generates a lot of friction that wears the bras out and makes those pesky little lint balls. Now, on to how to remove those balls of lint.
The first thing to try is to pick the balls off by hand. But if the balls are a part of the actual fabric wherein they're too stuck or too small, then you have to try another method. You should only remove the lint balls by hand if they're loose, otherwise you can damage the fabric.
Use a Battery-Operated Fabric Shaver
One of the most effective ways to remove balls of lint from a bra is to "shave" them off using a battery-operated fabric shaver. This handy little gadget, which can found at your local fabric store and online, features a stainless steel protective cover that shields the powerful rotor blades. It also has a removable lint container for easy disposal. To use a fabric shaver, you simply turn it on, place the rounded head of the shaver on the fabric and gently "shave" away those annoying, clingy balls of lint.
Use a Sweater Comb
A sweater comb is just as it sounds. It's a small, hand-held comb made specifically for removing lint balls and pilling from sweaters and other garments. Just lay your bra down on a flat surface, pull the material out so it's as flat as possible and then use gentle brushing strokes with the comb to remove the balls of lint. Don't apply too much pressure as doing so will harm the fabric.
Use a Disposable Razor
A popular and easy way to remove balls of lint from a bra is to simply run a disposable razor gently over the material. The sharp blades of the razor with literally cut the balls off the fabric. Just be careful and take your time when using this method so you don't slip and damage the material.
We hope these tips for removing lint balls from bras proves useful for those of you with this problem. If you want avoid getting lint balls on your bras in the first place be sure to wear a tank top when wearing rough sweater fabrics which can often cause these lint balls. Remember that it's far better for your bras to wash them out gently by and hand and to hang dry them as opposed to machine washing & drying.