Spring Cleaning For Your Bras
20 Wednesday Apr 2016
Most of us have at least one bra we love wearing and can't seem to part with. But sooner or later, every bra needs to be replaced even though there's no exact time when this must be done. How long a bra will last depends on several factors including how often you wear it, the overall quality and how well you care for your bra. Here are three sure-fire signs that it's time to replace a bra with a new one.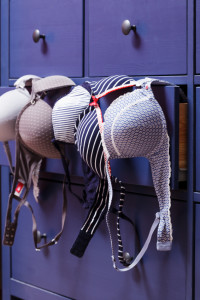 It Doesn't Fit Well Anymore
If your once favorite bra no longer fits because it's too tight or too loose, it's time to replace it with a new one. Maybe you've lost or gained some weight since you purchased the bra or perhaps gravity has simply done its job. Whatever the reason for the improper fit, replace any bra you're hanging onto if it is no longer fitting you well.
It is Stretched Out
Since bras are made of mostly elastic and our bodies are nearly 100 degrees, a bra will naturally stretch out over time when worn regularly. This is one of the reasons you should wear your bra on the outermost hook/eye because as it stretches with wear, you can tighten the band.
Machine drying (and washing) a bra is not recommended as the heat from the dryer will stretch out the bra. The friction caused by machine drying will also cause balls of lint to appear on your bra which are both unsightly and annoying. If you have lint balls on your bra, we wrote a previous post outlining how to get rid of them so do check it out here. To determine if your bra is too stretched out, just pull the straps and band to see if they bounce back when pulled. If not, your bra is stretched out to the point that it cannot function as it should.
A Broken Strap or Frayed Fabric
If you've worn a favorite bra so much that you've had to repair a broken strap, it's time to say goodbye to that bra and replace it with a new one. Also, if the fabric is frayed and faded, the chances are good that your unattractive bra cannot make you look more attractive either so toss it out and replace it.
If you find it hard to throw away a few gently used or hardly worn bras, consider finding a local charity that accepts bras so someone in need can make use of the bras you don't want.