4 Ways to Tell You're Wearing the Wrong Bra Size
20 Friday May 2016
By now you've probably heard the statistics: up to 80 percent of women wear the wrong size ofbra. Showing up at your local clothing store and guessing which size is right for you is probably not the best idea. You'll likely end up frustrated and grabbing the first bra that looks about right to you. For many petite women, finding the AA bra sizes that you need in store can be a challenge. If you've experienced any of the following signs, you may be wearing thewrong size and may be in need of an expert fitting.
 The Underwire Leaves a Mark
Even women who are AAA or AA bra sizes can have this problem, which is if you notice that the underwire in your bra is leaving a mark or is painful, you may be wearing a band size that is too small. Finding your correct band size, which will include sizing up, will relieve this pressure.
If the back of your bra is curved or rides up your back, then the band is probably too loose. You shouldn't be able to fit more than two fingers between your back and the band. There should be almost no space beneath the band once you've fastened it. A smaller band size will solve this problem.
There Is Visible Space Between The Cup & Wearer
One of the common signs for small busts that the cup does not fit is that it gaps, meaning it (a molded up normally) opens up when you move or there is visible space between the wearer and the cup.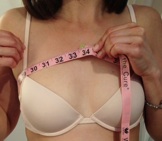 If the cup or band is the wrong size this can especially be an issue with strapless bras, just because the band the correct size this doesn't mean the cup is! Sizing down in both the cup size and the band size can keep your bra securely in place without having to pull it up every five minutes.
The Cups Wrinkle
A bra with non-molded cups should not wrinkle or look baggy at the top when you wear it. If it does, chances are the cup size is too large. Size down for a snugger fit and a smoother look. Bras are meant to increase your level of comfort, not cause you pain or embarrassment.
With the right fit, you'll feel more confident in the way you look.