Understanding Washing & Laundry Symbols
19 Thursday Jan 2017
At Lula Lu, we're proud to make beautiful bras and lingerie for petite women. We firmly believe small, just like all body types, is beautiful, which is why we've worked hard to create quality, designer lingerie for women of every size, giving you the confidence to look and feel gorgeous in any situation. With proper care, your Lula Lu lingerie will last you for years – but because we use premium materials and often feature delicate, beautiful designs like lace, they take a little more special care than most of your clothing items. To take care of your Lula Lu clothing – as well as the rest of your clothes – it's important to understand fabric care symbols.
A Guide to Fabric Care Symbols
While you may have assumed they were written in some foreign language, the symbols printed on the laundry tag of many pieces of clothing are actually called fabric care symbols, and they each have a specific meaning relating to how to care for a piece of clothing. You can use this guide – courtesy of the American Cleaning Institute – to decode the fabric care symbols on any of your clothes. Take a look below and see if some of those mysterious symbols make a little more sense now!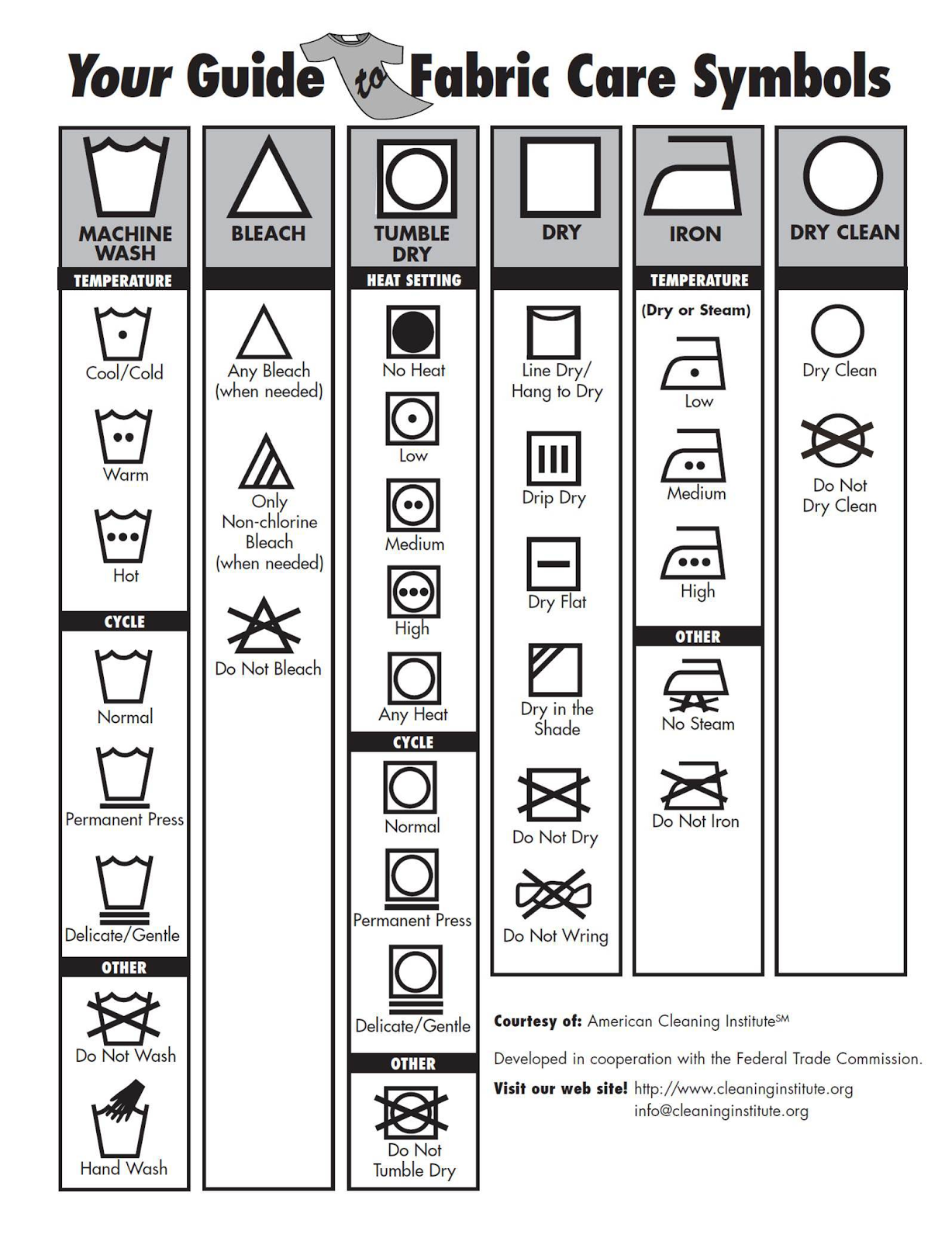 Fabric care symbols are important because they tell you how best to clean your clothes. Every material and fabric is different, so while some benefit from a high-heat wash and a high-heat tumble dry, others will be in tatters by the end of the spin cycle! A few common themes you might notice in laundry care symbols include:
Dots represent heat. In general, one dot means cold or low heat, 2 dots means medium, and 3 dots means high heat.
Horizontal bars mean the item needs delicate care. If you see one horizontal bar under the care symbol, it'll require a perm press (approximately medium delicate), while two bars mean it needs a delicate or gentle cycle.
Watch out for crossed out symbols. If a symbol is crossed out, that means you should never use that care method on the symbol. So if the machine wash symbol is crossed out, you shouldn't machine wash the item; if the tumble dry symbol is crossed out, you shouldn't tumble dry it; etc. Obeying these prohibitions is one of the most important parts of laundry care, as the methods crossed out can often severely damage the clothing.
When caring for your Lula Lu lingeries, always take care to inspect the fabric care symbols and be careful to follow the instructions closely. With proper care, your lingerie will stay with you for years – but they won't hold up to treatments they aren't designed for. Using proper care methods will ensure you can enjoy your beautiful lingerie for their full lifetime!
Contact Your Petite Lingerie Designer
We hope you've found this guide informative, but if you have any other questions – about fabric care symbols or our lingerie – we're always here to help. Feel free to send us a message at our contact page and we'll get back to you as soon as possible. Until then, we wish you luck in caring for your items, and we hope to see you back at this blog for more tips and information on beautiful petite lingerie!