Measuring Your Bust Size
23 Thursday Mar 2017
At Lula Lu, we're proud to design and create petite bras that perfectly illustrate one of our core, firmly-held beliefs: small is beautiful! However, while we design bras specifically for petite women, everybody is different and you'll need to choose a bra that fits your specific body type. To do this, you'll need to know your measurements – but don't worry, it's a very easy process!
How to Measure Your Bust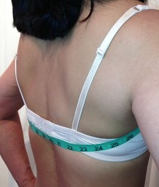 Measuring is simple, and all you need is some measuring tape, a private room, and a few minutes of spare time. First, find an isolated room where you can measure in private, then remove your shirt so you're wearing only an unpadded bra – and yes, it really does have to be unpadded! Keep in mind that the more accurate your measurement, the more comfortable your bra will fit and the better it'll look on you.
First, you'll want to measure over your bust. Use the soft measuring tape, begin by wrapping the tape measure behind your back, just under your shoulder blades, at your bra's band level. Then, you'll want to pull it around the front of your body, lifting it above your breasts. Make a note of the number you get. Do not pull it super tight.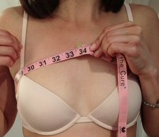 Next, you'll measure your actual bust size. To do this, wrap the measuring tape around you at the fullest part of your breasts. The tape should fit comfortably so it's not too tight, but also not loose, and it's important that the tape lies flat against your back.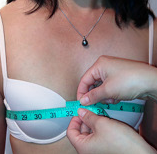 Once you have your two numbers, the work is almost done – and you can use our handy bra size calculator to find out your ideal size! Measuring your bra size will help you pick a bra that fits your specific body, which is the best way to get a bra that looks and feels great.
Shop Our Collection of Petite Bras Today!
After you've determined your bra size, you get to the fun part: getting a great-looking new bra! At Lula Lu, we put care and time into each of our bra designs, emphasizing a comfortable fit and a design that truly shows how beautiful small can be. Take a look at our full line of bras to see all the styles and designs available to you, and if you have any questions, we'd love for you to reach out to us at our contact page. We hope to hear from you soon, and we hope that measuring your bust will help you find the perfect bra for your body!