Finding the Right Bra Band Size for You
15 Wednesday Nov 2017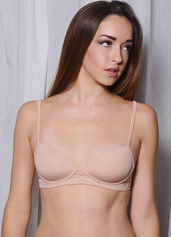 At Lula Lu, we're proud to create beautiful, high-quality designer bras and lingerie specifically designed to fit small-busted women. We truly believe that small is beautiful, and we're committed to helping our customers feel comfortable and confident in any situation by creating gorgeous lingerie for small breasts – but without the right sized band, no bra can fit comfortably. If you've ever felt irritation under your bra band or noticed red marks at the end of the day, chances are you're not wearing the right band size. Here's a simple guide to choosing the right bra band size as a small-busted woman.
Measuring Band Size
Measuring bra band size is fairly straightforward – simply wrap a piece of measuring tape around your chest just underneath your bust, right where a bra band would sit. The tape should lie flat against your skin and feel snug, but it should not be tight or dig into the skin. Round the measurement to the nearest whole number, then add 4 if it's even or 5 if it's odd – i.e. if you measure 30, your band size is 34. If you measure 31, your band size is 36.
To calculate your bra size, you'll repeat the process at the fullest part of your bust – at nipple level – and subtract your band size from that measurement. The difference between these numbers determines your cup size. For small-busted women, the difference between your band and bust measurement will be 1″ or less – A cup is a difference of 1″ (e.g. a 34 band and 35 bust), while AA and AAA cups are less than an inch.
Choosing the Right Bra
Here's where small-breasted women tend to get misled. So few bras are designed to fit and complement small-busted women that many women will end up going down a band size to try to fit into a larger cup – but this is both unhealthy and unflattering. Contrary to what many people believe, trying to fit into a larger cup when it's the incorrect size will just cause problems like gapping and creases in the cup, and the smaller band size will be uncomfortable to wear and shorten the lifespan of the bra.
Instead, choose a bra that's fitted with the correct band size and designed to work well with small-busted women. When you do find a bra with the correct band size, avoid immediately setting it to the innermost hook (the tightest it goes). If sized correctly, the band will fit fine at the outer hook, and immediately wearing it on the innermost hook will only serve to stretch out the elastic and wear the bra out faster.
Order Petite Bras & Lingerie Online Today
The truth is that you don't need a smaller band and a larger cup to look and feel your best in a bra – you need a petite bra designed specifically to fit small-busted women. At Lula Lu, we're proud to make designer petite lingerie that truly showcases the fact that small is beautiful. Feel free to shop our extensive collection of bras and lingerie for small-busted women, and don't hesitate to contact us if you have more questions on finding the right fit. We hope your next bra is your best yet!