Why We Fit Test Bras
15 Friday Dec 2017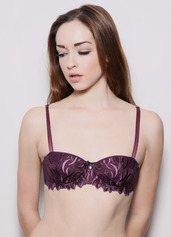 Your bra should support you: physically, aesthetically, and even mentally. Unfortunately, however, few women get bras correctly fitted to their body, which causes all sorts of problems and prevents the bra from doing its job. And for small-breasted women, the problem is even bigger. Even AAA cup bras from major brands are often not designed to fit the features of petite and small-breasted women, which makes it extremely difficult for small-busted women to find bras that work for them. That's why we design bras and lingerie specifically tailored to the bodies of small busted, petite women – and it's also why we're militant about fit testing every product we put out.
Our Fit Testing Regimen
Any time we develop a new product line or consider releasing a new bra or bralette, we put it through a rigorous regimen of fit testing. We try various sizes of the bra on a number of small busted models, meticulously checking every detail of the design, the fabric, and of course, the fit. Are the cups gapping when leaning forward? How tight is the bra band? Do the shoulder straps lie comfortably, or do they dig into the shoulders in some positions?
We take the results of these fit tests and use it to rework the product. Normally, we'll find quite a few problems on the first round of testing – but with each subsequent round, the fit gets better and better across the board. By the time we're ready to start selling the bra on our site, it's been meticulously crafted to perfectly fit small-breasted women.
Why Fit Test?
We do this, ultimately, because we care. We understand how difficult it is to find a well-fitted bra as a small-breasted, petite woman – because we've been there. And our mission is to erase the problem of poorly-fitting bras for small busted women. Fit testing is one of the ways we achieve that mission, as it lets us make sure that by the time you get a Lula Lu bra, we're 100% confident that it will fit you, support you, and flatter you in all the right ways.
Shop Petite Bras for Small-Breasted Women Online
We adhere to a strict standard of quality in everything we do – but don't just take our word for it. See for yourself. Browse our full line of bras for small busts, petite lingerie, and all the other products we carry for petite women. You deserve to look and feel like a goddess in any situation – and at Lula Lu, our bras and lingerie are designed to help you do just that.